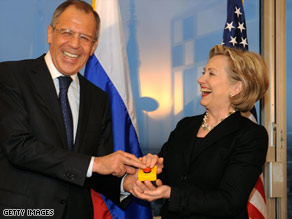 Am I the only one who doesn't think
this is funny
?
When Secretary of State Hillary Clinton greeted Russian Foreign Minister Sergey Lavrov in Geneva on Friday before sitting down to their working dinner, she presented him a small green box with a ribbon. Inside was a red button with the Russian word "peregruzka" printed on it.

"I would like to present you with a little gift that represents what President Obama and Vice President Biden and I have been saying and that is: 'We want to reset our relationship and so we will do it together.'"

Clinton, laughing, added, "We worked hard to get the right Russian word. Do you think we got it?" she asked Lavrov.

"You got it wrong," Lavrov said." Both diplomats laughed. "It should be "perezagruzka" (the Russian word for reset,) Lavrov said. "This says 'peregruzka,' which means 'overcharged.'"
Nobody in the American State Department is proficient in Russian? They try very hard to get a single word right and can't do it? For a photo-op that most of the world will see?
May I politely suggest that the State Department get its head out of its nether regions and realize that it is their job to understand how the rest of the world thinks and that they can't possibly do that if they don't speak the language?
The American government is like an out-of-touch executive, thinking that the occasional walkabout is a substitute for really knowing somebody.
And for what it's worth, this is not a Democrat/Republican thing. It's a part of the mindset that says, "I'm so important, everybody else has to know who I am while I forget their names." It's been a characteristic of American foreign policy for decades and is a big part of the reason why they get it so terribly wrong so often.
Technorati tags:
Reset button